Menus
Meals, foods and beverages sold or served at schools meet state and federal requirements based on the USDA Dietary Guidelines. All meals, foods and beverages are prepared and served by qualified child nutrition professionals. We provide students with access to a variety of affordable and appealing foods that meet the health and nutrition needs of students.
2021-2022 School Lunch Price
(Note: Universal Free meals Program is extended until the end of '21-'22 school year or until federal funding is depleted so below pricing does not apply until universal free meals has ended).
Elementary Lunch: $2.85
Middle School Lunch: $3.10
High School Lunch: $3.25
A la carte milk: $0.50
Breakfast $1.95 (at High School, Middle School and Lander Elementary)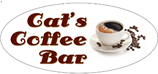 In Jan 2017, The Mayfield High School Kitchen staff launched "
Cat's Coffee Bar
" with grant funds to increase milk consumption in teens. During breakfast and lunch periods, students and staff will be able to choose from regular or decaffeinated, hot or iced coffee drinks, in gourmet flavor varieties. See this article for more details:
News-Herald today on Cat's Coffee Bar
Click arrows to scroll through months

Elementary Schools

Lunch Menu

Mayfield Middle School

Lunch Menu

Universal Free Meal Info

Universal Free Breakfast.pdf